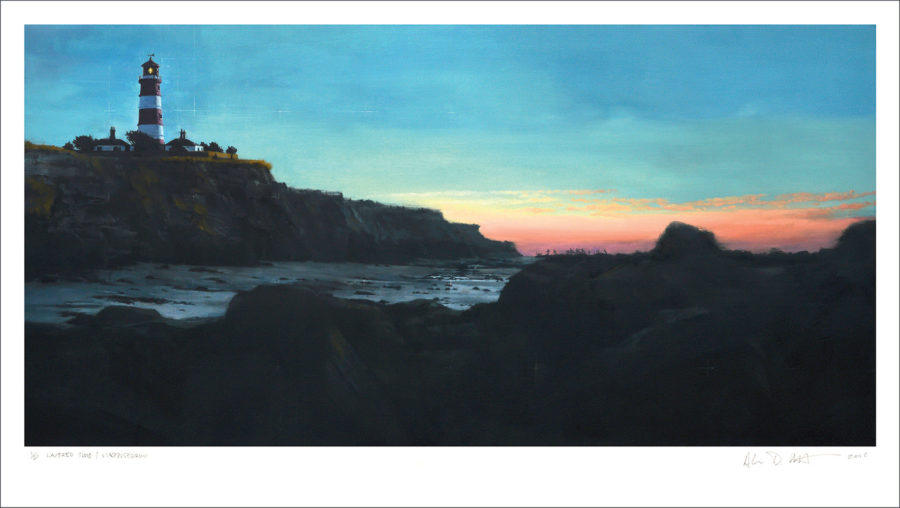 LAYERED TIME | HAPPISBURGH
2019
Limited Edition of 20, 59.4 x 33.5cm, Giclee Print
Limited Edition print @ £200 + Delivery
Hand numbered, titled, signed, dated in pencil
The original painting was my Judges Challenge piece for Sky Arts Landscape Artist of the Year 2019.
On being told the challenge, essentially to show how colour changes as evening falls, the time the challenge was set, the quality of changing light effectively demanded colour be used, to offer a more specific sense of how the light changed and shifted the colours of the lighthouse which was the subject of the Judges Challenge.
Having done some research into the lighthouse and local area I wanted to reference this. My composition became a constructed view using elements from the area, to convey a sense of a possible future, a warning, to also include the present and reference past narrative while also addressing the main aspect of the challenge.
Paint sprayed markings on grass close to the cliff edge indicate where land is being lost already. I decided to visually place the lighthouse far closer to the cliff edge than at present, to convey a possible future where the lighthouse would be in a precarious position unless something is done to stop it, a very real concern for those involved with the lighthouse today.
The coastal defence rocks installed on the beach offered a dramatic dark foreground, converging with the cliffs in the distance, where battered and broken wooden defences are revealed. I wanted to include and also adapt some so crosses are formed, almost like a graveyard, to allude to and commemorate the dead of the many shipwrecks that took lives over the years.
I included the cliffside, it illustrates the fragile nature of the ground, it has layers, like time laid down as the cliffs formed, now fragile, slipping, falling and disappearing into the sea.
As this erosion happens, it is as if the beach is transported in time, to a level where people walked up to to 950,000 years ago. Among many prehistoric finds made over the last 200 years indicating signs of habitation, in 2013 a series of footprints left in estuary muds by early humans were discovered, yet to be dated precisely, they are the oldest known hominid footprints outside of Africa. The beach is included to reference this discovery and history.